Teacher Outreach Programme
2013-02-15 00:00:00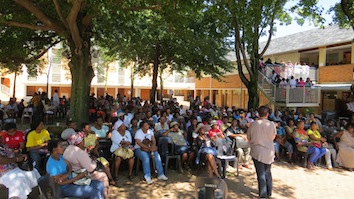 Saturday morning was the first Saturday this year for Thandulwazi Rokunda Teacher and Leader Development Programme.
Much preparation and planning had gone ahead of the big day - 1000 notes prepared and copied, file cover stickers printed and files ordered. All the items were ready to be handed out. Data was saved onto 1000 flash drives ready to go.
Presenters, students and interns had been trained on using the new online registration form. Five group leaders had been prepped on the routes they would take, leading their groups through registration, photographs, file collection and three presentations.
The early morning tea and coffee was waiting to be drank.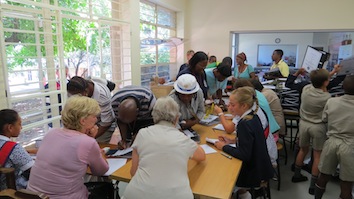 By 8 o'clock people were beginning to arrive, there was anticipation in the air. Buses arrived packed with people, some came by car, others walked. Some teachers said they had got up at 3am to begin the journey, to register for this year's courses.
All were welcomed, and the morning began as groups began to move from activity to activity. Some times the cues were long and slow but eventually all were registered, had a photo taken, listened to presentations about 'the Nurturing Shool' and the 'Action Goals to 2014' of the education department, and had been informed about the workshops and expectations for the year!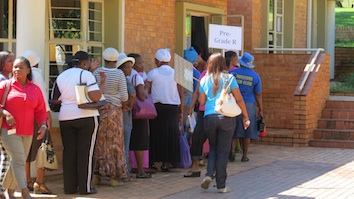 By 12:50 the school was silent again, a successful day was over, as people had gone home.
961 people had been registered.
Each individual had chosen a course from the Iist, namely Pre-Grade R, Grade R, Foundation Phase, Grade 4 to 9 Mathematics, Natural Science, Technology and English. There were also Leadership programmes on offer, I.e. aspiring leadership ( teachers wanting to become leaders in the future) and existing leadership workshops, for Principals, Deputies and Heds of Department.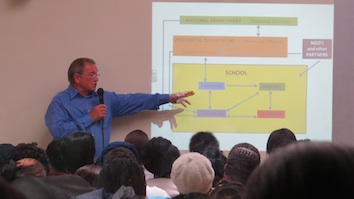 It was a successful day, the great team of people pulled together, and the visiting teachers and leaders were involved in the various activities.
Ready to start another year of inspiring workshops, on ten Saturday mornings during the year!
Do you want your school to do an outreach project? Let's have a chat!

2017-07-24
2017-06-12
2014-03-03
2014-01-07
2014-01-06
2013-12-30