Technology & Technologies & Software
2013-06-19 00:00:00
Integrating technologies - using technologies (hard and software) to make learning meaningful.
We had a wonderful hands-on workshop at African Education Week 2013 with six stations. At each station were laptops or tablets (iPads and Samsung) or both. Delegates played with the software on the devices or interacted with the other devices that we connected to the laptops or tablets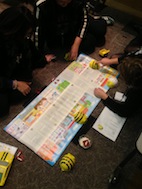 Devices to programme
Bee Bot, little bugs which can be programmed to move forwards, backwards and turn 90 degree angles. Pro-Bot is a car that can be programmed in a similar manner, but the distances are in centimeter and the number of degrees needs to be typed in. The final device was 'Roamie' the roamer. It is a programmable device that is used for more advanced programming.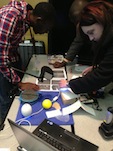 Microscopes
Various microscopes where experimented with. Wireless scope and mini-scope are portable magnifying devices, which were wirelessly connected to laptops to project the images. The delegates had to link the microscope images to the actual objects by using the microscopes. These images were transferred to Clicker a literacy tool. This tool assists learners develop their reading and writing skills.

Document Cameras
Document cameras, such as Lumens, Tuff Cam & ab-I-see: Eye-pal-solo were used to show how text, images, objects can be projected to assist learners to small or detailed items which the teach may be using while teaching.

Data - collection - speed test, relate to real life - BloodHound Project
Labdisc is a data-logging unit, which collects various types of data on the inbuilt sensors. This inquiry-based learning tool could be used in the classroom or outdoors. The speed sensor was placed on a vehicle built from Kinex construction set components. The vehicle down the ramp and the speed was recorded.

Online learning tools - Mathletics & Reading Eggs
Delegates explored Mathletics, mathematics programme for Gr R - 12 learners and Reading Eggs, a literacy programme, on laptops and tablets.

Interactive learning software - Yenka
The Smartboard was used to demonstrate interactive software programmes such as Yenka Software. Delegates chose pre-made lessons related to subjects and grades. They worked through tasks and lessons.
The instructions were given to each group using technologies such as microphones, recording devices, and reading devices. The information was recorded using built-in recording devices, programmes that accumulated the information.

Using technology to enhance your teaching. Not trying to use all technologies, but choosing those that would most uplift the teaching of your subject and using what is suitable for the grade your learners are in.
Thank you to Edit Microsystems and 3Plearning for making this workshop truly interactive using real products.
Would you like a custom-made hands-on staff workshop with tools relevant to the age of your learners and the subjects being taught? Contact Karen Walstra using the contact form on www.karenwalstraconsulting.co.za or email karen@walstra.co.za

2017-07-24
2017-06-12
2014-03-03
2014-01-07
2014-01-06
2013-12-30