Recreate and Evolve your Tech or D&T Classroom into a MakerSpace
2017-07-24 00:00:00
Many schools have a Technology Workshop or Design and Technology Room, with a range of hand-tools and machine tools. This is often a large classroom, with large desk-space, storage and research areas,

Our world is changing, changing very quickly. We need to prepare our children about the world of unknown future, therefore programming (coding), robotics and other digital tools need to be incorporated into the everyday curriculum of your school. An easy way to achieve this is to evolve your school's Design and Technology (or Technology) Room but updating the tools and knowledge areas.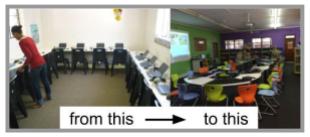 The knowledge areas of technology focused structures (frame and shell), mechanisms (electrical and mechanical) and processing (food and materials). Now areas such as Computational Thinking, Coding (Programming), Robotics, Virtual Reality and Augmented Reality should be included into everyday school life.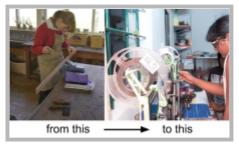 This means that the tools need to be updated. There is a large range of machines and devices which could be installed, possible items include:
Design and Make Tools such as:

3D printers - A 3D printer, also called Additive Manufacturer (AM) is a machine, which builds three dimensional objects and models layer by layer, in a selected material from a digital file. At schools plastic is the material used most often.

Laser Cutters - A Laser cutter is a machine which accurately cuts a design in a given material using a CAD (computer aided design) file.

Coding (Programming) devices such as:

Arduino is an open-source electronics platform based on easy-to-use hardware and software.

Raspberry Pi is a very small computer originally designed for education, to improve programming skills and hardware understanding at the pre-university level.

littleBits is a platform of easy-to-use electronic building blocks that empower you to invent anything, from your own remote controlled car, to a smart home device. The bits snap together with magnets, no soldering, no wiring, no programming needed.

Robotics such as:

Sphero is a programmable ball, which moves, makes sounds and emits coloured lights as the programme instructs.

MakeBlock's mBots are vehicle-type devices, to inspire designing and making,  exposing learners to programming (coding), electronics, and robotics. Both block-coding and Java coding.
Go Lab is an up and coming company who distributes most of these devices (individually or as a lab).
Seebox - Scientific, Engineering & Education Box is a game-based learning device  to teach learners scientific and electronic engineering principles in the form of a game, It is a South African product, that every high school should have for their science learners, to build their knowledge, while their progress is measured as they  solve the scientific and electronic engineering problems, it is appropriate for learners from Grade 7 upwards.

Acer CloudProfessor is a product available in South Africa, which includes electronic components as hardware, for makers, to build circuits, and a mini-cloud computer and software for coders, to develop programming skills, both block-coding and programmes, to manage and control the electronic components, it is appropriate for learners from those learning electric circuits  in Grade 6 and upwards.
As your school begins exploring how to change existing rooms, continue developing creative and critical thinking, as with D&T, now using 21st century skills the learners' learning needs to be moving into the ever-changing world. Prepare learners to be adaptable, critical and creative individual thinkers. Evolve your teaching venues into inspiring learning spaces.
Let me know if you would like to discuss ideas about evolving learning spaces and turning them into 21st century learning spaces and inspiring makerspaces.
Contacts for:
References:
Your thoughts: Let me know if you enjoyed this information, leave a comment. I would love to hear your thoughts and ideas, comment about this article: "Evolve your Tech or D&T Room into a MakerSpace". Twitter at @KarenWalstra or explore and contact me: http://www.karenwalstraconsulting.co.za
FB: https://web.facebook.com/KWC.EvolveSchool/
Instagram: https://www.instagram.com/karenwalstra/
Pinterest: https://za.pinterest.com/KarenAWalstra/pins/

2017-07-24
2017-06-12
2014-03-03
2014-01-07
2014-01-06
2013-12-30