Augmented Reality for Learning & Teaching
2013-10-16 00:00:00
The more I play with Augmented Reality or AR as it's known, the more I think this is an exciting technology to use in the classroom.

I think over time this technology may be used more frequently, as more educational augments are created by companies and by the teachers themselves.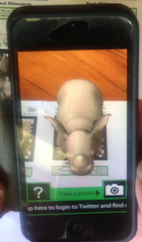 What is Augmented Reality (AR)?

Augmented Reality (AR) is a combination of a digital or existing image or video which has been saved as an aura. This aura is then embedded on a marker (a worksheet, textbook, product or any other item). When the marker is activated by the aura from a website or app, an integrated image is created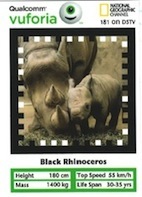 with the reality and the aura (which is the digital image).
What is a marker?
The marker triggers the app / website into action. It is downloaded from a website and printed or found on a product. The app / website is then opened, and held over the marker. The app / website 'reads' the marker and the 3D image becomes active.(Copy of the AR Baby Rhino marker received at exhibit, is image on the left)
A photo can be taken of the two integrated images, creating a "new reality".

For example:
At the National Geographic AR exhibit visitors were given the 'AR Baby Rhino' augment marker. Download the iPhone app - AR baby Rhino, open the app, the camera opens, hold camera lens over the marker. A cute 3D baby rhino pops-up and it can be "loved", tap its nose or stroke its head and the baby rhino moves and even sneezes.
The National Geographic's AR exhibit was on display at shopping centres in Gauteng, then moved onto Durban and Cape Town. See Live Augmented Reality-National Geographic video example on
http://www.youtube.com/watch?v=D0ojxzS1fCw

This blog is about augments that exist already that can be used to enhance the learning that takes place in the classroom. The augments are created by a vary of companies for a variety of subjects.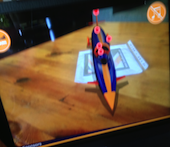 Bloodhound SSC AR (for Natural Science and Design & Technology)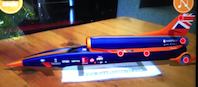 The Bloodhound SSC vehicle is hoping to break the land speed record in South Africa. Find out more and register your class or encourage children to register at http://www.bloodhoundssc.com/
There is a great Bloodhound AR, download the app and print the marker on this website at http://www.bloodhoundssc.com/sites/default/files/Bloodhound_SSC_AR_Trigger.pdf

Learn AR (for Natural Science and Language)
LearnAR uses augmented reality for various educational topics. Download and print the various markers, use your laptop with a camera to view the printed markers and see the 3D images.
Learners can view the 3Dimages of the internal organs and arms, as well as explore radioactivity and chemistry; and even play a language game. Go to the website to print the markers and see the various learning options: http://www.learnar.org/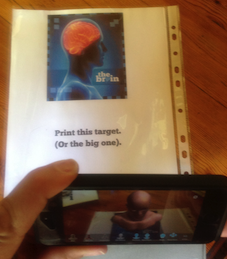 The Brain in 3D, by Harmony Internet Limited (for Natural Science)
View link on: http://www.harmony.co.uk/brainapp/
This augmented reality (AR) app lets you explore brain and all the layers of the head, including the skin, muscle, skulls, then the areas of the brain in detail.
There are links to both the AppStore and Google Play.
Print the markers, so that you can make the images come alive!

Popar Toys (for Natural Science and Language)

Popar Toys Augmented Reality (AR) technology creates a 3D reading experience y by activating and animating objects that pop up off a Popar book or card. Popar Toys are designed to change how learners participate and learn. For more information, go to: https://popartoys.com/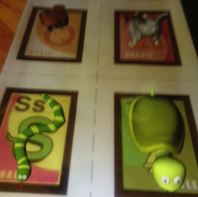 AR Flashcards (for Language)
Wonderful app with the whole alphabet of augmented animals, that pop up, as well as other educational augmented markers can be downloaded and more information about this website can be found at http://arflashcards.com/

iTunes app can link: https://itunes.apple.com/us/app/ar-flashcards/id502903392?mt=8
GooglePlay app links: https://play.google.com/store/apps/developer?id=Mitchlehan+Media,+LLC



Zoo burst (for Language and Geography)
Digital books for children can be made by children or teachers using the many images of the library or by uploading your own Adobe flash animations, narrations, and speech balloons can be added to each story. After saving the stories, a marker can be generated for that ZooBurst book, which creates an augmented reality feel to the books. ZooBurst books "live" can be viewed on a PC, laptop or via the ZooBurst iPad app. For more information go to: http://www.zooburst.com/

Logical Choice Technologies Alive Series (for Language and Mathematics)
Various Augmented Reality teaching tools, namely: Letters Alive, Storybooks Alive, and Maths Alive have been produced by Logical Choice Technologies. These products can be purchased online. Available from Android app on Google play and on the ipad app from iTunes
http://www.logicalchoice.com/interactive-software/letters-alive
http://www.logicalchoice.com/interactive-software/storybooks-alive
http://www.logicalchoice.com/interactive-software/math-alive

Spacecraft 3D, from Jet Propulsion labotatory (for Natural Science and Geography)
Print the markers (various space crafts) and view them in AR when the app is opened
Google Play link:
https://play.google.com/store/apps/details?id=gov.nasa.jpl.spacecraft3D&hl=en
iTunes link:
https://itunes.apple.com/au/app/spacecraft-3d/id541089908?mt=8

Solar System AR (for Natural Science and Geography)
Download Solar System AR to Google Play. Augmented Reality Solar System, link to Google play:
https://play.google.com/store/apps/details?id=com.mobiti.solar&hl=en
The Augmented Reality Solar System creates a wonderful 3D experience of the solar system. Download and print the AR Solar System Trackable, Mobiti from http://www.mobiti.co.za/#!ar-app-trackables/c1pvt

SolAr+ System (for Natural Science and Geography)
Solar System discovery in augmented reality, available in AppStore. Link to website and print the markers http://www.ar-solarsystem.com/
These are just some ideas and websites I have found and begun playing with.
AR technology could truly enhance the way we teach, creating another dimension to learning! Experiment with it! Let me know your thoughts!
In the next AR blog, I'll discuss how we as teachers can create our own augments to use in our lessons!
I love to hear from you, the readers, plesae email me at: karen@walstra.co.za. Follow me on Twitter @KarenWalstra . Add to the conversation on the Blog comments! Be inspired!
If you would like me to do workshops with your staff, view the website and contact me on the Contact page.

2017-07-24
2017-06-12
2014-03-03
2014-01-07
2014-01-06
2013-12-30