How sharing sporting gear with others builds values!
2013-10-23 00:00:00
At the end of a sports season when children have grown out of their sports kit, what do parents do with the old kit? Could we use this equipment to share with others? Could school teams share their sporting knowledge to enhance the sporting knowledge of other children?
Mr. Tlhabanyane is a cricket coach at one of the more affluent schools in Johannesburg. He had contact with the Gauteng Primary Schools Cricket Association. Kagiso was identified by the Gauteng Primary Schools Cricket Association (GPSCA) as a district needing attention. Children in the Kagiso area have a great enthusiasm for cricket, however there is a lack of facilities and equipment which has resulted in limited opportunities in the past for the sport to be played.
Mr. Tlhabanyane asked his cricket team boys to donate cricket equipment to the young cricketers in Kagiso who required equipment.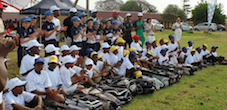 The boys and parents not only collected and donated old cricket equipment, but some parents also generously bought new cricket equipment for these young and aspiring cricketers in Kagiso.
The boys' cricket team travelled to a school in Kagiso Township, which is about 40kms away from their school on a Friday afternoon, taking the items they had collected, which included "Old and New" cricket equipment, caps, t-shirts and water bottles.
The team was greeted with lots of excitement and friendliness from the Kagiso children and community. Each of the approximately 60 Kagiso boys received a ball, cap, bottle and t-shirt, which they loved.
The cricket team boys went out of their way to help and share some valuable knowledge about the game of cricket to the Kagiso boys.
Mr Tlhabanyane and Mr Galane, the two cricket coaches who accompanied the boys to the school in Kagiso, also spent the afternoon sharing a number of cricketing skills in batting, fielding and bowling with the Kagiso boys. These two coaches where also amazed at the talent the Kagiso boys showed. They hoped one or two of these Kagiso boys would be seen in Protea Colours in the future.

The cricket team boys' mothers organized a snack and drink for these Kagiso boys.
Mr Tlhabanyane said, "It was an amazing experience to witness the talents of these primary school children, and a privilege to share some knowledge about the game of cricket with about 60 of these aspirant young cricketers."
The cricket team boys, their parents and the school coaches worked together and created a wonderful opportunity for the sharing of cricket knowledge and skills. The organisers from Kagiso thanked everyone who where involved in making this day a success.

Both the cricket team children and the Kagiso children experienced meeting children from other environments.
What a wonderful example of sharing, giving and growth. We can all teach those around us about giving, no matter who we are. We need to teach children to respect and value all those around them, by teaching children about giving and sharing we are doing that!
If each school encouraged their learners and teachers to share knowledge, skills or equipment with another school, community or individual, what an amazing value system we would be instilling in all.
Thank you for this wonderful example - Mr Tlhabanyane and Mr Galane, your cricket team and the parents involved. We can all learn from this example.
What is your school doing to share with others? Share your skills, talents and ideas.
If you would like me to discuss possible outreach projects with your school members, let me know on the contact page. I love to hear from the readers, please email me at: karen@walstra.co.za . Follow me on Twitter @KarenWalstra. Add to the conversation on the Blog comments! Be inspired!
If you would like me to do workshops with your staff, see details on website: KarenWalstraConsulting and be intouch with me on the Contact page.

2017-07-24
2017-06-12
2014-03-03
2014-01-07
2014-01-06
2013-12-30