School Assessment - whole school planning
2013-10-24 00:00:00
Teachers are expected to create valid, reliable and credible assessments for each subject they teach throughout the academic year.
Teachers should not be expected to create the assessments in isolation, rather the school should have an assessment programme or plan which guides teachers within this process. Encouarge teaching staff to work collaboratively in deciding on the type of assessments and when the assessments will take place. These teaching staff teams could bounce ideas off each other, learn from each other and develop their assessment skills.

The needs of the individual learners need to be considered when planning assessment. The assessment tasks should not all be pen and paper. Children with learning difficulties need to be catered for, during an assessment. Think about how this will be done practically in your school.
When planning the assessment calendar, the whole school calendar should be investigated, including length of school term, when school tours will take place, sporting commitments and tours, cultural involvement, parent days or evenings and when the formal school reports will be sent home. The school's assessment calendar should take all these factors into account.
Teachers should be encouraged to share ideas of both the learning and teaching methodologies and strategies as well as the assessment processes and procedures.

We should be assessing what the children have been taught. But not only asking knowledge and recall questions, the questions should include different levels of critical and higher order thinking.
Therefore learning and teaching, and assessment tasks two go hand in hand: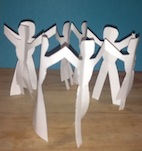 We should not be doing assessment in isolation, rather assessments should relate to what has been learned and taught with a subject. We need to include critcial thinking questions into our teaching, so that we can fairly ask those types of questions in our assessments.
Outline of a possible school assessment programme:
An annual assessment plan - showing suggested formal and informal dates, these dates should be developed in conjunction with school leadership and all other teaching staff.
Describe how the assessment plan is to be implemented and used to the staff, once whole plan is complete.
Share final plan with students and parents.
Information which could be shared:
Giving the dates for the year to students and parents (Teachers should know this information at beginning of the year)

Providing a termly assessment programme

Providing a monthly assessment programme
The following information teachers should know and could be included for parents and learners:
Describe how records are to be kept - electronically or record books

Explain the assessment codes to be used

Describe the internal moderation and verification of assessments

Describe how moderation is to take place in the school - which individual/s within the school will be seen as the academic leader or leaders, and how the moderation will be conducted. Including how the monitoring of assessments

Describe the frequency and method of reporting to both students and parents

Describe when the training of teaching staff in assessment will be conducted.
Suggested school assessment programme:
Baseline assessment
At the beginning of each year you will do a baseline assessment to establish prior learning and to assist in planning your year.

Baseline assessment may also be conducted at the beginning of each new concept, such as in Mathematics or Science, so establish if students understood the concept knowledge from the previous year.
Using critcial and higher order thinking questions while teaching
During everyday teaching you will be aware of individual learners' strengths and weaknesses, make notes on an observation sheet, in an observation book or record book.

A useful tool for instant knowledge as to whether the students have understood what has been taught is to use an electronic response system in the lesson, see Using Interactive Response Technology in Everyday Classroom Lessons, by asking questions throughout the lesson, the teacher sees all the learners' answers and not just the children who have their hands up.
Various formative assessments throughout the term: use a variety of assessment strategies such as written tasks, practical task and / or oral assessments to benefit the learners' different learning styles.
Report and feedback to learners as quickly as possible after any assessment to assist them in improving their performance.
Summative assessment takes place at the end of a term or module.
Provides and overall view of each student's progress at a given time.

Make sure these are valid and fair, only assess what has be taught!

Remember that to include critical thinking questions you need to teach asking learners critical thinking questions, see Critical Thinking - making it work in your classroom
Reporting is a very important aspect of teaching.
Report back to learners regularly - after any form of assessments, marking books and individual discussions.

Report learner progress to parents on a regular basis, a quick phone call or SMS telling parents how well a child doing, is wonderful for parents to hear and shows you care as a teacher. A phone call or one-on-one discussion about concerns also sets the mind of a parent at rest.

Formal written reports should be done at least once a term.

Other reporting ideas, may be to invite parents to:

oral presentations

displays of learners' work

practical demonstrations

individual written letter or comment about a students progress.
The assessment process is a detailed picture of a student's progress, achievements, weaknesses and strengths which would be of benefit to teachers from year to year if recorded and managed effectively.
I love to hear from the readers, please email me at: karen@walstra.co.za. Follow me on Twitter @KarenWalstra.
Add to the conversation on the Blog comments! Be inspired!
If you would like me to do workshops with your staff, see details on website: KarenWalstraConsulting and be intouch with me on the Contact page.

2017-07-24
2017-06-12
2014-03-03
2014-01-07
2014-01-06
2013-12-30