Using Cellphones in the Classroom
2013-11-15 00:00:00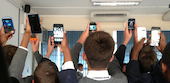 Using cell phones in the classroom is quite controversial, with many schools banning them and not allowing learners to use them for learning activities. In my experience cell phones work in the classroom, where the teacher has discussed the use of and created boundaries around the use of the cell phones. A values discussion should also be had; respect of property, consequences of taking and / or sharing inappropriate information. Values, role in society, should be the basis of what and how we teach. However I do feel they can be wonderful learning tools, and here are some thoughts about cell phones in the classroom. Balancing Act - Telecoms, Internet and Broadcast in Africa; Issue 120 of January 5, 2012 noted that between 2000 and 2010 South African adults' cell phone usage increased dramatically from 17% to 76%.
They also commented that there are 29 million cell phone users while radio had 28 million listeners and 27 million people watched TV.

Texting was the fastest growing method of communication, 4.2 times more widespread than emailing, with 69% of cell phone consumers preferred texting to calling.
Ref: Balancing Act [Issue 120] January 5, 2012. South Africa: More consumers use cellphones than listen to radio or watch TV, cited Marketing Wed (Reg Lascaris)

As teachers, I am sure you have noticed how many of the learners have cell phones, even if the school bans them. As teachers we could use this technology to our advantage. Often schools say they have no technology, but they ban cell phones.
Before going the cell phone route, discuss it with the school leadership.
Create a cell phone or mobile device policy.

Discuss the ideas of how you would use the cell phones.

Once decisions have been made the parents need to be informed, send a letter and the policy. The letter should include safety, how the cell phone will be used as part of learning and teaching, discuss costs, if any (e.g data usage).

The parents and learners would need to sign the school's policy.
Have classroom rules and etiquette about using cell phones.
Useful rules include:
Place all cell phones on the desk

Turn onto silent

Don't answer calls during lessons

Don't send SMSes during lessons

Only use for activities as decided by the teacher for that lesson.

Look after your own cell phone
As educators we are continually watched by our learners, so we need to set the appropriate example, and follow the same rules we create with or set for the learners.
We need to teach the learners about the image they portray of themselves online, whether it's via their cell phones or other electronic device. Sexting is a reality, and we need to teach learners to use their devices with integrity, and that there are also consequences to actions.
Offline cell phone lesson ideas:
Take photos to use in projects - for example: aspects of school life, school history, plants, animals and insects. The list is endless

Take videos to use in projects or for later reference for learning, such as Science or other experiments the teacher conducts

Experiments, dramatisations or demonstrating working models which learners are involved in.

Learners could create their own videos, as an enactment, or group activity to be used as part of an assessment activity. These videos could be viewed and evaluated by the educator and the other class members

Audio recording could be made by learners, creating their own stories or as a book review.
Online cell phone interactions in lessons, if your learners will be working online teach about'Internet Safety' (blog comment)
As well as the blog about a 'Respectful, caring school environment anti-bullying' (blog comment)
Online work may cost money if the learners need to use their own data, be aware of this!
Possible online lesson ideas:
There are so many activities to do!
Set the boundaries! Have the discussions with learners about values!
Begin using cell phones from where you feel comfortable. Let me know how it goes!
Let me know if you enjoyed this information, leave a comment. If you would like me to do workshops with your staff, contact me on the Contact page.
I would love to hear your thoughts and ideas, email me on: karen@walstra.co.za
or comment about the article on my blog at "
Follow me on Twitter at @KarenWalstra

2017-07-24
2017-06-12
2014-03-03
2014-01-07
2014-01-06
2013-12-30